Develop an exceptional relationship with your dog while working with a certified professional dog trainer in the comfort of your own home.  Through private training programs, we not only help you solve your dog's current problems, we also give you the knowledge you need to maintain good behavior and ensure enjoyment with your dog for a lifetime! 
Creating the dog you have always wanted takes commitment and teamwork, we will work together to be sure your goals are met.  Training is a important investment for a happy life for you as well as your dog.  Please take some time to read through and familiarize yourself with the programs below and if you see something that looks like a good fit, contact us.  We will help you decide your best option for training and give you all the details you need about the process so you can make a well-informed decision.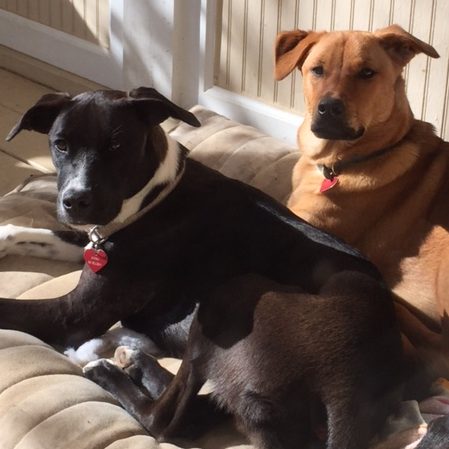 ---
The Dream Dog
Think about what it would be like to have the dog of your dreams, your ideal dog.  Imagine taking your dog everywhere with you and never worrying about embarrassing or frustrating moments.  There is no need to stress over your dog's behavior any longer, we are here for you!  Your dog will listen to you every time!
In this program, we will address and resolve any and all unwanted behaviors you may be experiencing. We will teach your dog all he needs to know to be the ultimate canine citizen.  At the same time, you gain the knowledge of how canines communicate, think and learn. We are dedicated to you and your dog with continued support for a lifetime. You will get the benefit of continued learning for you and your best friend with bonus lessons which can be used to work on a new behaviors, refresh obedience cues, or for field trips to practice out and about.
This program is ideal for the first time dog owner or the family who expects their dog to have perfect behavior anywhere and everywhere they go.
Program Features:
8 private lessons
*Unlimited obedience and behavior cues
*Resolution of any unwanted behaviors
Bonuses:
*Lifetime support via email, phone, and text
*Training supplies and interactive toys included
*BONUS follow up lessons after initial training
---
Amazing Dog

 **Our most popular program**
Imagine having guests politely greeted by your dog. Imagine your friends and neighbors being impressed by your dog's great behavior.  Your dog will no longer jump on people or act out of control, he will come when called, and you will start looking forward to peaceful walks together.
In this program, your dog will learn the cues needed to control and resolve unwanted behaviors such as pulling and lunging on leash, jumping, nipping, and chewing.  Plus, you will learn how to effectively communicate with your dog to ensure he listens every time.
This program is perfect for the family who expects obedience and manners from their dog even around distractions.
Program Features:
5 private lessons (~8 hours of one on one training)
Up to 8 obedience and behavior cues (Examples: Focused attention, Sit, Down, Stay, No jumping, walking nicely on leash, come when called, Leave It)
Bonuses:
6 months support via email, phone, & text
*BONUS follow up lesson
---
Well Mannered Dog 
Do your just wish your dog had some manners and was better behaved? We will give you the foundation you need to get your dog to listen and teach your furry friend basic manners and self control.
This program is great for the family just looking for a little extra help.
 Program Features:
3 private lessons (~4 hours of one on one training)
Up to 5 obedience and behavior cues
Bonuses:
2 months support via email, phone, & text
---
Other specialty programs
Surviving Adolescence

(for puppies 7 to ­18 months) 
Reactive Rover

(for leash reactive dogs)
---
 

If you are looking for Durham Dog Training,             WE CAN HELP. Contact us now!  (919)457-7956
Durham Dog Training Services in Durham, Chapel Hill, Carrboro, Cary, Morrisville, Raleigh, and surrounding areas